News and Information
Early Out the 2016-17 school year is changing to Mondays at 2:30pm.
Click on the button to sign up for SEP Conferences on Thursday, Oct. 27th.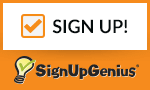 Please remember to have your children read 20-30 minutes each night and practice math facts for 5 minutes.
We are now able to accept online payment, which will hopefully be much more convenient for you.